Tissue Therapies Limited is a heath biotechnology company that develops and manufactures synthetic proteins for wound healing applications.
Tissue Therapies Limited is commercialising VitroGro® ECM for the treatment of venous leg ulcers and diabetic foot ulcers. VitroGro® is a broad spectrum healing promoter for the treatment of ulcers of all severity.
Tissue Therapies Limited's shares are traded on the Australian, Berlin and Frankfurt stock exchanges.

Tissue Therapies Limited has identified that there is a significant need in wound care for improving the outcome of hard to heal wounds. Hard to heal wounds are defined as wounds that have not respond to standard therapy in an orderly and timely manner [1]. This type of delayed healing occurs in a variety of wound types (venous leg ulcers, arterial leg ulcers, mixed leg ulcers, diabetic foot ulcers and pressure ulcers) [1,2,3].
Treatment of hard to heal wounds is demanding on both patients and healthcare providers, with significant financial impact on the healthcare systems and the patients quality of life. For example, conservative costs to the UK National Health Service (NHS) are estimated at £2-3 billion per year. In the United States hard to heal wounds effect 6.5 million patients and is estimated to cost in excess of US$25 billion annually [4].
In Germany, according to cautious estimates, approximately 3-4 million people suffer from hard to heal wounds and costs associated are high for the Statutory Health Insurance (SHI) funds, the economy and patients [5]. The average annual cost to the SHI per patient for the treatment of venous leg ulcers alone was estimated at €7630.70 and the annual cost to the patient was estimated at €1027 [5].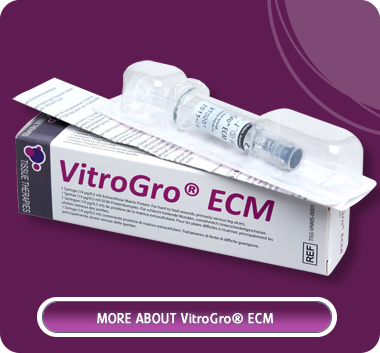 In 2007, a UK hospital audit found that the drivers behind such high costs were[6];

The relatively high incidence of non-healing wounds (1 in 4 wounds had been non-healing for at least six months);
The prevalence of infections associated with non-healing wounds, resulting in longer hospital related care;
Nursing time, which was associated 33-41% of the total cost of care and the cost of wound dressings, which were associated with 17-22% of the total cost of care.
Clearly there is an opportunity to provide a technological solution that reduces the time and resources taken to resolve hard to heal wounds, in addition to providing improved patient outcomes.
VitroGro® ECM is a new treatment for hard to heal wounds that is used in conjunction with standard care including moist wound dressing and compression. We see opportunities to have significant impact in wound care markets in Asia, Australia, Canada, Europe, New Zealand, the United States and other markets experiencing the economic burden of wound care. [learn more]
Tissue Therapies pursue pharmaceutical innovation, provide information about high quality products and strive to deliver superior results. We conduct our business consistent with all applicable laws and are honest in our dealings with customers, employees, shareholders, partners, suppliers, competitors and the community. We maintain an environment built on mutual respect, openness and individual integrity. Respect for people includes our concern for all people who touch or are touched by our company: customers, employees, shareholders, partners, and communities.
Our greatest contribution to society is discovering medicines that help people live longer, healthier, more active lives. Our company vision is to improve global health. We believe it is our responsibility to do more. Globally, locally and personally, we devote our time, resources and expertise to advancing health and improving lives - all with the goal of making life better for people around the world.
[1] Vowden P. Hard to heal wounds made easy. Wounds International 2011
[2] Srinivasaiah N. et al. A point prevalence survey of wounds in the North East of England. J. Wound Care 2007
[3] Vowden KR. and Vowden P. The prevalence, management, equipment provision and outcomes for patients with pressure ulceration identified in a wound care survey with one English health care district. J. Tissue Viability 2009.
[4] Harding K and Queen D. Chronic wounds and their management and prevention is a significant public health issue. Int. Wound J. 2010
[5] Purwins S et al. Cost of illness of chronic leg ulcers in Germany Int. Wound J. 2010
[6] Drew P et al. The cost of wound care for a local population in England. Int. Wound J. 2007